Best teas for afternoon tea and high tea party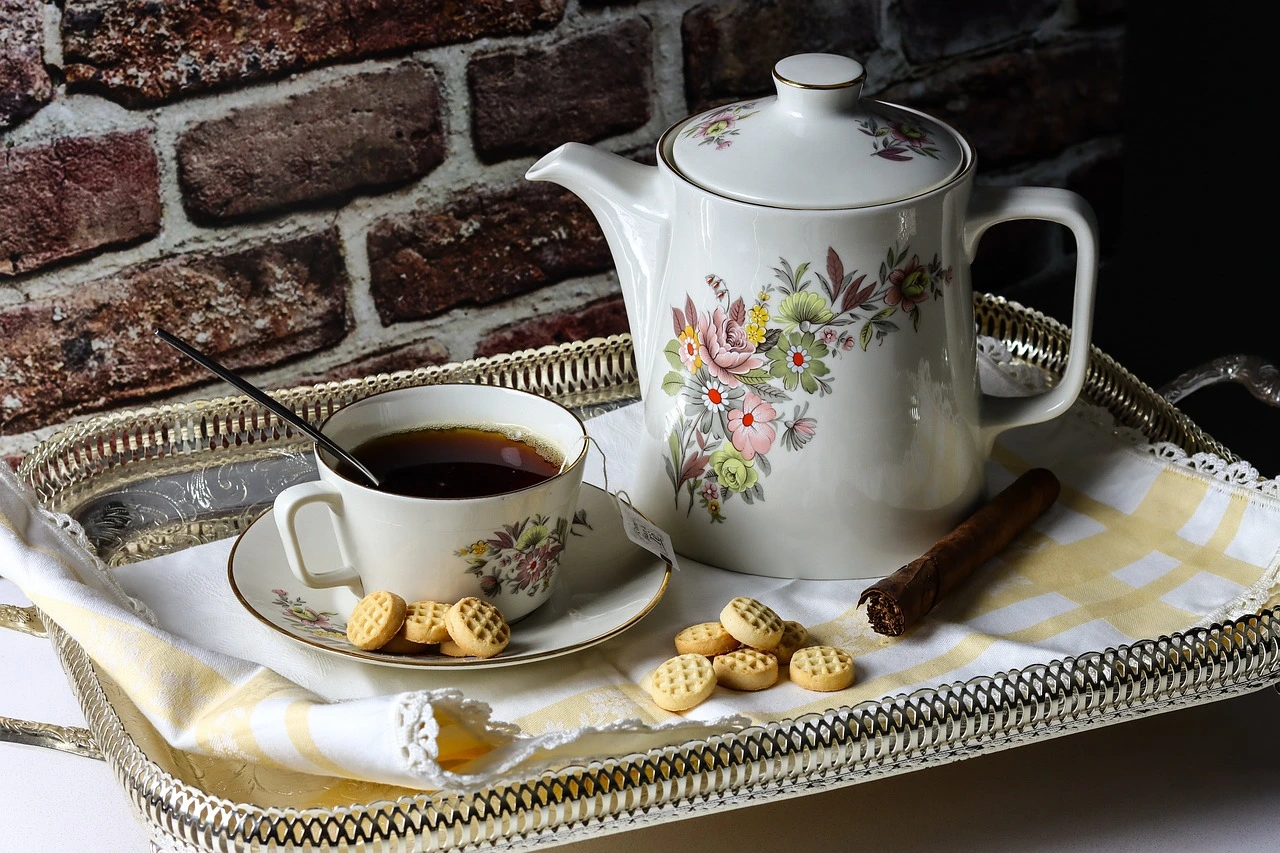 Best teas for afternoon tea and high tea party
Reasons to host a tea party
Hosting a tea party can be an enjoyable experience for any host and their guests. Tea parties are ideal for gatherings of family, friends, or coworkers alike. There are many reasons to host a tea party, such as the opportunity to socialize over a comforting cup of tea in a relaxed atmosphere. Tea parties allow people to catch up on each other's lives, learn more about one another and make lasting memories. The host can also customize the event by selecting the type of teas they want to serve and choosing special dishes that go well with the teas. (Visit: https://gvtea.com/blogs-2 ,get more ideas) Decorating the venue with pretty tablecloths, colorful centerpieces, or inviting little gifts will make your guests feel extra special! Whatever your reason may be for hosting a tea party, it is sure to be an enjoyable experience for everyone involved.
What is traditional afternoon tea?
Traditional afternoon tea is a luxurious experience that has been around for centuries. It usually consists of having a pot of tea, small sandwiches and pastries served in the late afternoon. Afternoon tea is served between two and five o'clock, depending on the time zone and location. This delightful treat can be enjoyed as a snack or even as a light meal. The traditional afternoon tea experience is not just about the food; it's also about taking time to relax with friends and family in an elegant setting. Tea varieties range from black teas such as Earl Grey to herbal teas like chamomile, so there's something to suit every palate. There are also plenty of thirst-quenching non-caffeinated beverages like juices or smoothies available for those who prefer something else. Enjoying a luxurious afternoon tea is truly a special experience that you won't soon forget!
What is high tea?
High tea is a popular tradition in many cultures, and it is usually served between the hours of 4:00 and 6:00 pm. It is a light meal typically enjoyed during the late afternoon or early evening. Generally, high tea includes a variety of teas such as black tea, green tea, herbal teas, and other specialty blends. The menu also often includes small sandwiches, pastries, scones, cakes and other treats. Many people choose to drink their tea with milk or lemon for added flavor. High tea is traditionally served on low tables with comfortable chairs, often accompanied by background music which creates a relaxing atmosphere for enjoying the food and drinks. Guests are encouraged to linger at the table, take their time drinking their tea and savoring the delicacies served with it. High tea can be an enjoyable experience for guests of all ages!
What is the difference between afternoon tea and high tea?
Afternoon tea and high tea are both varieties of tea served in different contexts. High tea is a more substantial meal, typically served in the evening and including savoury dishes such as sandwiches and pies, while afternoon tea is more of a snack and includes items like scones with clotted cream and jam. Afternoon tea is traditionally served between four and five o'clock in the afternoon in specialised tea rooms, where it may be part of an elaborate menu. High tea, on the other hand, is usually a simpler affair eaten at home or in restaurants. Both types of tea usually include pastries or cakes, as well as hot beverages such as coffee or herbal infusions. While high teas tend to be heavier meals with savoury elements, afternoon teas are light snacks meant to tide one over until dinner time. The key difference between these two types of tea is the time they are served and the food that accompanies them.
What are the best teas to serve at a tea party?
When planning a tea party, you want to make sure you're serving your guests the best teas. Black tea is a classic kind of tea that makes a great start for any tea party. Green and oolong teas are also popular choices. For those looking for something different, herbal and caffeine-free teas are great options. If you want to mix things up, consider creating a unique tea blend with two or more types of tea. This way, your guests can choose which kind they prefer or even try both! No matter what kind of tea you serve at your tea party, making sure everyone has an enjoyable experience is the most important thing!
Choosing Which Teas To Serve At Afternoon Tea?
When it comes to choosing which teas to serve at an afternoon tea, there is a wide variety of options available. Depending on the type of tea party you are hosting, you can choose from green tea, earl grey, black tea, herbal tea, oolong tea and chamomile. If you're looking for something special for your afternoon tea party, why not try a unique blend of two or more of these teas? You can create a mix of your favorite flavors or even blend one type of tea with different herbs and spices. For example, mint and oolong make a delightful combination. Whatever type of tea you choose for your event, make sure that you brew it properly in a teapot in order to get the most flavor out of each cup. Enjoying afternoon tea with friends and family is one of life's great pleasures – so take time to select the best teas to serve!
Menu For Afternoon Tea Party: What Food To Serve?
Hosting an afternoon tea party? If so, you'll need to decide what food to serve. Afternoon tea usually consists of a selection of light refreshments and finger foods. Start with a variety of teas and coffee for your guests to choose from. Serve traditional scones with clotted cream and jam, as well as a selection of pastries. You could also have some savoury options such as tea sandwiches filled with cucumber and cream cheese or smoked salmon. For something extra special, why not offer small cakes or tarts? With so many delicious choices, your guests will be sure to enjoy their afternoon tea!
The Best Teas For A Tea Party
When it comes to hosting a tea party, there are so many teas to choose from. Here is a list of 8 of the best teas for a tea party.
Earl Grey is one of the most well-known and favorite teas. It's a black tea that has natural sweetness and pairs well with scones.
Green tea is another popular type of tea that can be served at a tea party, as it has caffeine-free properties.
For those looking for something special, we recommend jasmine green tea – the subtle floral flavor adds an extra special touch to any gathering.
Oolong tea is also great for any kind of occasion and provides a unique flavor profile with notes of nuts, honey and spices.
Rooibos is full of antioxidants and has a natural sweet taste that pairs perfectly with desserts.
Lastly, chamomile is known for its calming effects and can provide a soothing atmosphere for your tea party guests. To make sure you have the best experience possible at your next event or gathering, find yourself a reputable tea company like Tealux that offers premium quality teas so you can host the perfect tea party!
Best Oolong Tea to serve at a Tea Party
For a truly special tea party, oolong tea is the perfect choice. Oolong is a type of tea that falls between green and black teas in terms of processing, flavor and caffeine content. Its flavor can range from light and floral to woody and roasted. It's also great for those who don't like either green or black tea as it can be tailored to individual preferences. Loose leaf oolong is the best choice for a tea party, as it has more depth of flavor than oolong in teabags. If you're looking for something caffeine-free, try roasted oolong which has been cooked at high temperatures to give it its unique flavor profile without any caffeine content. Whatever type of oolong you choose, your guests will be sure to enjoy this delicious beverage!
Best Tea for a Children's Tea Party
Hosting a tea party for children can be a fun and exciting experience. To ensure the success of your event, it is important to choose the best teas to serve. A great way to do this is with a tea sampler, which offers a wide variety of tea options such as herbal teas, black tea, white tea and more. You can also brew your own tea in a teapot or offer individual tea bags for guests to make their own cup. If you wish to sweeten up the drinks, pour some honey into small dishes or let each guest add their own sweetness to their cup. By offering a wide variety of teas, you can create an unforgettable experience for your little guests and host an amazing tea party they won't soon forget!
Caffeinated black, oolong, green, and white teas
Teas are a popular beverage around the world. Caffeinated teas come in four varieties: black, oolong, green and white. Black tea is most commonly found in tea bags and has a stronger flavor than the other types of tea. Assam is a type of black tea that comes from India and has a strong, full-bodied flavor. Oolong tea is semi-oxidized and produces a slightly floral brew with a hint of sweetness. Green tea has less caffeine than black or oolong tea and is known for its health benefits. White tea is made from young buds of the plant and has a very delicate flavor with natural sweetness. To make any type of brewed tea, steep 2-3 teaspoons of loose leaves or 1-2 tea bags in hot water for 4-5 minutes in either a teapot or cup. Add milk and sugar if desired to enhance the flavor or drink it plain to enjoy its natural taste.
The Final Word On Teas For People Who Don't Like Tea
For people who don't like tea, the final word is that there are still plenty of options to enjoy a cuppa. If you don't love tea but still want to experience the goodness of it, then dessert teas are perfect for you. These are specially crafted teas that have added flavors like vanilla, chocolate and other sweet elements, making them far more palatable than regular tea. Herbal teas have also been gaining popularity as they offer an interesting blend of flavors without any caffeine content. This makes them ideal for those who don't enjoy the taste of regular tea, but would still love to get their daily dose of relaxation from a good cup of tea. With so many different types of teas available for those who don't like traditional tea varieties, there is something out there for everyone!
What Is The Best Oolong Tea? We know that finding