11 BEST BOBA TEA FLAVORS, RANKING WORST TO BEST
When I was growing up, boba tea was a drink I never even imagined trying. I had no idea what it was or how it was made. Fast-forward several years and I discovered boba tea when I visited China. Boba tea is made from black tea that has been flavored with sweetened condensed milk, flavoring, and sometimes fruit. It's typically served cold with tapioca pearls as a topping. Boba tea is said to have originated in China, but it's now popular all over the world. Instagrammers have taken to boba tea like crazy! It's a great way to enjoy a refreshing drink on a hot day or as an after-dinner treat.
There are endless flavors to try when it comes to boba tea, and with milk teas becoming increasingly popular, the options for enjoying these drinks are even more plentiful. Whether you're into classic boba flavors like black sugar and honey or something a little more daring, like green tea and strawberry, there's a flavor for everyone. And if you're feeling extra creative, why not experiment with some of the more unusual options like pumpkin spice or mango? No matter what your preference, there's sure to be a boba tea flavor that will suit it.
we've compiled a list of the 11 best boba flavor for you to try! From fruity to sweet, these drinks will have you hooked on the bubbly goodness for sure.
11. Strawberry Boba Tea
People like strawberry bubble tea for many different reasons. Some people enjoy the taste of strawberries in their tea, while others find the sweet and bubbly flavor addicting. The combination of milk and sugar in bubble tea makes it a very popular drink, as people can customize their drinks to fit their own personal tastes. Some people even believe that strawberry bubble tea is good for your health because of the high amount of antioxidants found in strawberries.
I know some people who don't like it because they think the taste is too sweet, but I personally enjoy it! I think the sweetness balances out the acidity of the strawberries, and together they make a really delicious beverage. Plus, the milky flavor is perfect with all that sugar.
10. Passion fruit Bubble Tea
I love tropical flavors and Bubble Tea is no exception. I was intrigued when I found out about Passion fruit Bubble Tea and decided to give it a try. Girl, am I glad I did! The passion fruit flavor is amazing and the Boba pearls are a nice touch. The Tanginess of the passion fruit is just right and it's one of my favorite flavors. If you're looking for a tropical flavor that will leave your taste buds exploding, then you need to try this drink!
9. Caramel Milk Bubble Tea
Caramel milk tea is made by infusing sweetened condensed milk with heavy cream and caramel syrup. The resulting drink is velvety and smooth, with a slightly nutty flavor thanks to the cream and syrup. It's also intensely sweet, so be prepared for a sugar rush when you order one! In addition to being delicious on its own, caramel milk tea makes an excellent base for other flavors, such as mango or strawberry.
8. Jasmine Green Tea Boba Drink
Classic tea with a sweet and floral twist, the Jasmine Green Tea Boba Drink is perfect for enjoying any time of day. A sweet jasmine flavor is combined with a refreshing green tea base for a unique and delicious drink. You can enjoy it as is, or use it as an add-in to your favorite recipe.
7. Mango Bubble Tea
There's something about the sweet, tangy flavour of mango that makes it taste amazing in bubble tea. In fact, many people love Mango Bubble Tea so much that they rank it as one of their favourite drinks.
Part of the appeal is probably the fact that Mango Bubble Tea is made with fruit, which gives it a refreshing and sweet flavour. Plus, the green tea adds a touch of bitterness to balance out all of the sweetness.
6. Winter melon Boba Tea
I wasn't sure what to expect when I first saw winter melon Boba fruit Tea, but I'm so glad I tried it! The tea is sweet and refreshing, with a unique flavor that I can't quite put my finger on. The Boba add an interesting texture and make the drink even more fun to drink. I will definitely be trying this again!
5. Thai Boba Tea
Thai boba tea is delicious! The tea is the perfect balance of sweet and refreshing. Thai iced tea is made with real Thai ingredients, including milk, sugar, and spices. The boba balls add a chewy texture and sweetness to the drink. Thai boba tea is perfect for those who want to enjoy a traditional Thai beverage without having to travel to Thailand.
4.Matcha Boba Tea
Matcha is a type of green tea that originates from Japan. It is made from stone-ground whole green tea leaves and has a unique flavor that is both grassy and sweet. Matcha is also packed with antioxidants and has numerous health benefits.
So what happens when you combine the healthy goodness of matcha with the deliciousness of bubble tea? You get an incredibly refreshing and unique beverage that is perfect for anytime!
3. Taro Milk Bubble Tea
It's time to get obsessed with taro milk bubble tea. This delicious drink is taking over the internet, and for good reason. Taro milk bubble tea is the perfect mix of sweet and milky, and it's usually a gorgeous purple colour that makes for great Instagram photos.
But why exactly are people so obsessed with this tasty treat? Part of it has to do with the fact that taro milk bubble tea is so darn photogenic. That pretty purple colour is hard to resist, and people love posting pictures of their drinks on social media. But beyond that, taro milk bubble tea just tastes really damn good.
If you haven't jumped on the taro milk bubble tea bandwagon yet, now is the time. Trust us, you're going to love this delicious drink!
2. Brown Sugar Milk Bubble Tea or
Tiger Milk Tea
Brown sugar milk tea, also known as tiger milk tea, is one of the most ordered bubble tea flavors. The trend started in Taiwan and quickly made its way to North America. I remember the first time I tried it, I was hooked instantly by the rich taste of brown sugar syrup mixed with milk and tea.
The recipe is simple, all you need is milk, black tea, brown sugar syrup and tapioca pearls. You can find the recipe online or in many bubble tea cookbooks. My review? Brown sugar milk bubble tea is delicious and definitely worth a try!
1. Black Boba Tea or Hong Kong Bubble Tea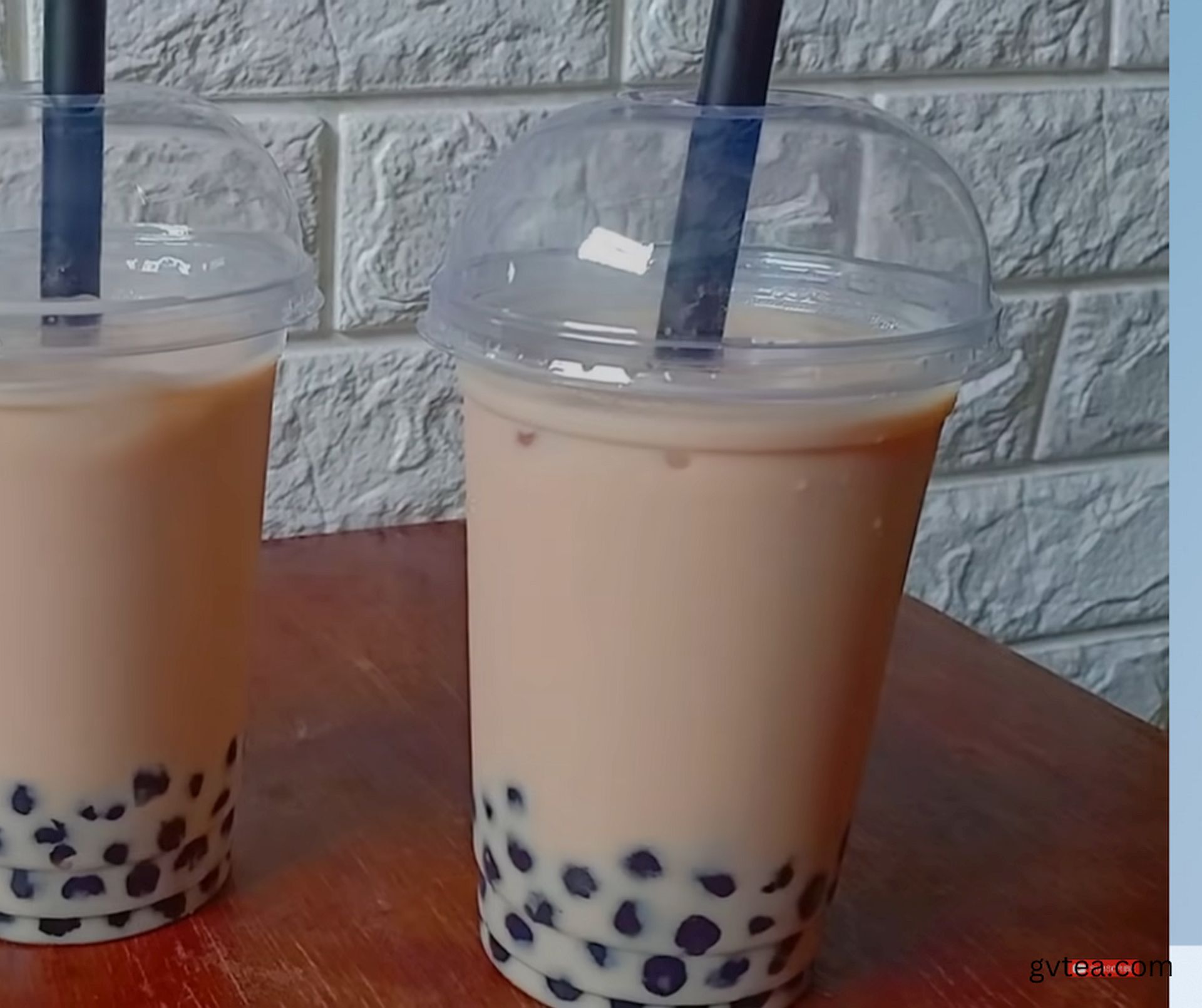 Black Boba Tea, also known as Hong Kong Bubble Tea, is one of the most popular drinks around and for good reason! Not only does it look and taste amazing, but it's also super refreshing. I've been lucky enough to try a lot of different kinds of bubble tea, but black boba tea is by far my most favorite.
If you've never had black boba tea before, I highly recommend that you try it! The flavor is unique and unlike anything else I've ever tasted. It's the perfect drink to cool down with on a hot day or to perk yourself up with when you need a little pick-me-up. Trust me, once you try black boba tea, you'll be hooked!
Conclusion:
Bubble tea is a delicious and refreshing drink that has become increasingly popular in recent years. If you haven't tried it yet, we highly recommend that you do! Let us know your favorite bubble tea flavor in the comments below.